Sunny Hi 100 Lo 75 for Baghdad, Iraq
Sunny Hi 67 Lo 43 for Northern Kentucky, USA
Featured Song of the Week: Arlington,
Trace Adkins
If you aren't familiar with Trace or this song... just listen to the words.......
Every week I get a little apprehensive because I never have a clear plan on what I will write about on Sunday. This week was no exception. I usually start by picking my music. That always firms the direction I want to take my journal entry.
I thought about all the Iraqis making it to the polls... and how inspired I was all day Saturday because of their courage... Yes... I could have blogged about that... but then I believe the photos I posted yesterday say it all...
I then thought about some of the blogs I visited this past week... and the ones that kept my attention were the military blogs. OK... let me explain something... I'm partial to
Marines
... always have been... if you have read this blog for any amount of time you'll know that I come from a family of 'em. Now... don't get me wrong... I love all the other branches and have just as much respect and appreciation for them...I love a man in uniform, but nothing compares to those
dress blues
...nothing....
About a week and a half ago, a friend, Kyle, dropped a note stating that there was going to be a benefit dinner and dance in December for one of our fallen Marines. Kyle... not
sure if I've mentioned him before or not... He is a good man. He is a Vietnam Veteran and is definitely one of my heroes. Michael and I met him at a rally in Cleveland- March 2003. As we weaved in and out of the crowd we saw this sign...we saw the colors... we knew...
Ever since that first chance meeting, Kyle has been our partner to countless rallies and lectures. If you read this and live in the Cincinnati area, chances are, he has welcomed home a son or a daughter of someone you know. Kyle's the guy that quietly makes sure no one is forgotten and that you have a frosty adult beverage. The photo to the left is at
Glenn Beck's
Rally for America in Huntington, West Virginia. A news reporter actually interviewed Kyle...
05/25/2003 5:42:42 AM PDT · Herald-Dispatch 5/25/2003 jean tarbett "Just because," he said with tears in his eyes, summing up the reason he drove from Cincinnati to Huntington, painted USMC on his forehead for "United States Marine Corps" and carted flags and signs into Marshall University Stadium Saturday. When the former Marine found his voice, he managed an explanation: "To thank the ones who have come home and the ones who didn't come home and to thank the families of both."
More recently, Kyle landed some tickets to see Sean Hannity down at the Cincinnati Convention Center. Michael had to work so I invited my brother-in-law, Sam and mother-in-law, a recent convert from the darkside... I'm still in shock.... When you meet Kyle... you've made a friend for life... before we parted ways that evening it was as if he'd known them all his life- hugs and kisses for everyone.
Kyle is the guy you want to have a beer with... and he most certainly is someone you want on your side.
With that said, this past May, prior to starting this blog, Kyle sent me a note stating that one of our fallen Marines,
Lance Corporal Nicholas B. Erdy
, was coming home. We had about an hour notice. I flew home from work, got changed, Michael grabbed our flag off the porch and off we went to Milford, Ohio. Kyle met us and we followed him to the firehouse where we got a ride with one of his buddies- another veteran, was he the fire chief?
LCpl Erdy arrived at CVG- Greater Cincinnati/Northern Kentucky International Airport. Law enforcement officials from the Kentucky State Police, the Clermont County Sheriff's Office, the Ohio State Highway Patrol and Owensville Police Department escorted him. When Nick arrived in Milford, he was greeted by countless red white and blue ribbons that women in the town quickly made and the fire department placed along the entire route of this very sad homecoming. As the procession slowly made its way up "Main Street" dozens of people were out with flags to pay their respect. Most were like us... We didn't know this young man, but we were compelled to come and thank him for giving the ultimate sacrifice. I suppose this young man's passing as well as
Pfc Jim Miller IV
of Anderson in January of this year hit me because they grew up in the same place I did...albeit many years after me... we went to the same schools... walked the same halls... but they had a greater calling- one that I and others like me will never be able to comprehend. These young men new what they were doing. They joined a brotherhood where
Honor, Courage, and Commitment
is the standard. When they enlisted they knew that going to battle was imminent. What courage.
My hope and prayer is that no one else dies in this war or any war for that matter. However, as long as terrorists continue to plague our planet, injury and death will continue to be a sobering reality for us until we have rid the world of this evil enemy. Understanding this harsh reality, everyone should attend a military procession of this nature at least once, not only out of respect but as a reminder---
freedom is never free
. The military funeral ceremony is absolute. It will move you. I encourage you to bring your children- It is important that our young people understand what the ultimate sacrifice is. However, if you have not taught them how to be respectful and reverent-- do it before you show up to something like this. This isn't the time to throw a temper tantrum or have to listen to whining or have kids running around playing... but rather a time to teach your children about heroes.
When in attendance of a military funeral, the flag that draped the coffin is given to either the wife or mother of the fallen Marine... the following words are spoken...
On behalf of the President of the United States, the Commandant of the Marine Corps, and a grateful nation, please accept this flag as a symbol of our appreciation for your loved one's service to Country and Corps.
Imagine those words being spoken to you. Life is so very precious and
Nick Erdy
knew that.
Related from my blog:
Anger and Hope
Letter from a Soldier
Related articles and websites:
Cpl Jeffery Boskovitch
Military Mascots
Lima Company
Band of Brothers
Arlington Cemetery
Welcome Home
Blogs to visit!!!!!!
OK, So Here's the Deal
Camp Katrina
Who's Your Baghdaddy?
Six More Months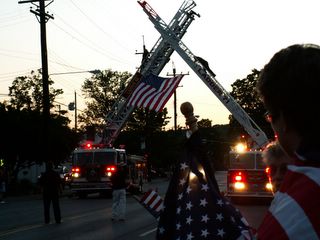 The fire departments prepares as LCpl Nick Erdy comes home

Savannah & Anna waiting to pay their respects.
They came alone- Her fiance was in Iraq. When the Marines pulled LCpl Erdy's casket out of the hearse, Michael and I held Anna while she cried... we all were crying as I recall.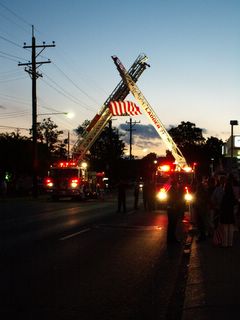 The sun disappears as we wait for him to come home.

Have a great week everyone...