Sunny Hi 106 Lo 79 for Baghdad, Iraq
Sunny Hi 81 Lo 58 for Northern KY, USA
Song of the week: New Orleans is a Mighty Good Town,
Eddy Raven
with
Buckwheat Zydeco
My rambling blog as you know are my very personal observations of the human heart and soul. I usually reflect on things from days past and how it has an impact today. My mind is reeling over what has happened to our brothers and sisters in Alabama, Mississippi and Louisiana. There hasn't been enough distance to put this in perspective-- the enormity of it all, the repercussions and the ripple effect will no doubt have an impact on us for a very long time.
I am troubled by the images of evil-stealing of items- NOT food, mayhem, assault, rape and murder. I have heard and read it countless times
..." times like this bring out the best and worst in people".
I submit that times like this actually MAGNIFY what was already there in the heart of that individual. That is what troubles me so. I am disturbed and deeply saddened by those that would do harm to others while in this crippled state.
I'm frustrated by the finger pointing... I think we should start by looking at ourselves. Am I prepared for a disaster? No. Could I survive on my own given similar circumstances? On my own, I'm thinking I have a 50% shot...with my husband I have no doubt, we would survive. After the events of 9/11, President Bush called the American people to stay vigilant, to be prepared and help our fellow man. "Become involved", he said... I signed up immediately for our County Emergency Response Team. (At the time, a local organization didn't even exist. The Department of Homeland Security had just been created, I emailed
Citizen Corps.
to volunteer.
About a year later
, I started getting email from the
Kentucky Office of Homeland Security
. Then this past July, I received an invitation to attend training classes in August--26 hours + certification testing. It was canceled... due to lack of interest... lack of interest... one more time... It was canceled due to lack of interest... OK. Another class will be held in November... hopefully, I'll get another shot... So, do we wait for the government to get their act together? No. Do I wait for my community to become involved? No. I'm sure there are counties within the state that have moved a little quicker than my county. The point is... we have to save ourselves...and from 9/11/01 to 9/3/05 the only thing that Kentucky has to show for Homeland Security is a really cool website... a lot of good that will do us in the event there is no infrastructure. Is this a pessimistic way of looking at things? Perhaps. My mother and my grandparents taught me to be self sufficient, depend on no one- a pretty valuable lesson based on what we have witnessed.
I am not criticizing the folks that decided to "ride" out the storm. I understand some people could not leave. Given the same circumstances, Michael and I may may have done the same thing. I think of the line from Forest Gump... Lt. Dan (Gary Sinise) says, "
I'm living off the government tit."
Or how about,
"Give a man a fish; you have fed him for today. Teach a man to fish; and you will not have to listen to his incessant whining about how hungry he is."

On the other hand I am encouraged and thankful for the good works of so many and this is what needs to be the focus. Afterall, good always conquers evil. People helping each other. A nation coming together and reaching out to those who have lost everything. The stories of heroism that are starting to trickle out. The acts of kindness. Strangers helping strangers.
We are better than the slugs that were causing havoc in the city of New Orleans. We are better than those that would take advantage of folks that have nothing. Case in point--- On my way up to see my brother yesterday (North on Interstate 75) convoys of military vehicles were heading south. People in cars were honking and waving at them (me included). At a rest stop that I pulled into, there were several cars from Louisiana. I was witness to strangers from Michigan, Ohio, Kentucky, Indiana, and Canada giving money to these weary folks. I watched one family from Michigan take their very nice Coleman cooler and put it in their trunk. There was nothing in the trunk of the car except for that cooler.
This has been an awful tragedy and will take years to recover. My hope is that some good comes of this, that our moral compass is corrected a bit. We are losing our way and it is times like this when we are reminded of the things that truly matter.
A new life is what truly matters. Let me introduce you to Kaeli Olivia, my one day old niece and the reason for my trek up to Toledo.

Prior to my blog I used to send out a weekly email. Here is a portion of one sent on 4/10/05.

OK- So Michael and I just came back today from a "business trip" to New Orleans. The company I work for sent me down to a conference and trade show—(more like an appreciation party held by one of our distributors…) It was their annual crawfish boil. (Up until this past Tuesday, swear to goodness, I thought they were calling it a Crawfish Ball. If you have ever been to N'Awlins, our hotel is located in the Warehouse District-
On Wednesday, I visited Northrop Grumman Ship Systems- Ingalls in Pascagoula, Mississippi. I had the privilege of getting to board and tour ALL levels of 2 separate ships, LHD 8- the USS Makin Island and LPD 17- the USS San Antonio. Words and pictures can not describe how amazing these structures were. If I did not have a guide, I most assuredly would have gotten lost. I was permitted to climb around on all levels of both ships- you can not imagine how huge these things are. On LHD 8, the link above reflects current photos of it in modules as it has not been put together yet. Now the LPD is almost finished (it was moved from Avondale to Ingalls a number of months ago. It is behind schedule- it should have only taken 4 years) If you ever have an opportunity to tour a ship, I urge you to do so. OK. I'll stop w/ the geek/work talk… By the way--- I was caught in the worst storm driving back to New Orleans after we left the shipyard…

Thursday morning, Michael and I went to the D Day Museum, a must if you are a history buff- a must if you aren't. http://www.ddaymuseum.org. Not only was the European front covered, but so was the Pacific.

If you have never been to New Orleans (NOLA, N'Awlins, etc), I suggest you make it a destination if you love any of the following: food, spirits, music, art, history, Southern Hospitality, and 500,000 friends… The people -locals and tourists (except for one street car driver) are friendly - everyone is your friend (just know when you are being looked at as a mark). Did I mention spirits? http://www.earthcam.com/usa/louisiana/neworleans/bourbonstreet/index.php?cam=3 . http://www.neworleansonline.com/tours-attractions/festivals/fqfest.html or http://fqf.neworleans.com or http://www.frenchquarter.com/events/french-quarter-festival-2005.php

This past weekend was the French Quarter Festival! Tons of good food and drink and MUSIC everywhere… Had a blast… these folks know how to have a party.

Ask Michael about "open containers" and drive through daiquiri joints---

Michael's best moments in NOLA— 1) our carriage ride, 2) our mean street car driver on the Riverwalk line (oh my gosh, she was mean!!) - "Dees hee ah streetcah do not go to Canal. If you'd want to git on de Canal, you got to get off dis cah!! , 3) eating massive amounts of crawfish at the crawfish "ball" (I did too!!).

My best moments – 1) our carriage ride, 2) watching the weirdoes on Jackson Square
3) the street performers 4) the food…

http://www.jackson-square.com/index.htm

http://www.neworleanschurches.com/stlouiscath/stlouiscath.htm

Places we ate—Dragos--- the best bbq oysters… Mr. B's http://www.mrbsbistro.com and of course Pat O'Brien's http://www.patobriens.com/tour.html . We did not make it to Café Du Monde http://www.cafedumonde.com/main.html … the line was stupid long…
I hope all these folks are ok. I hope they got out.
Terry-I hope you had a Happy Birthday
Kaeli- Welcome to the world
Have a great week everyone. Michael and I are off to Cleveland in a few hours for the airshow.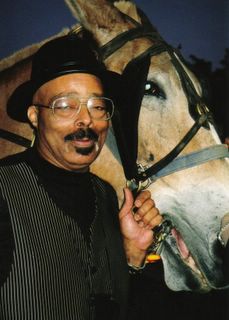 David and Knucklehead.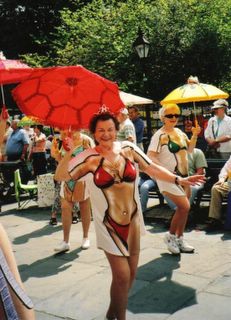 wow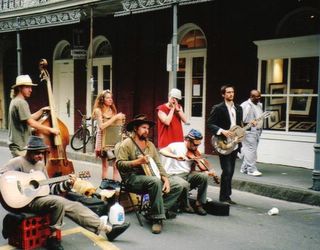 A Kentucky Bluegrass Band performing during French Quarter Festival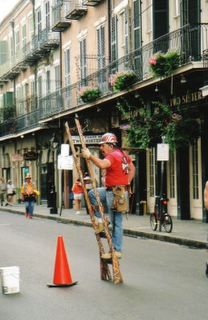 street performer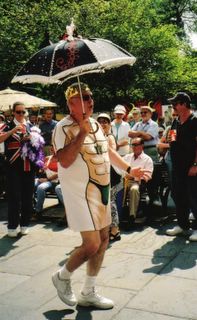 only in N'Awlins'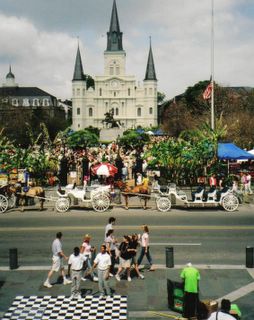 St Louis Cathedral- French Quarter Festival 2005. The flag is at half staff because this was the day that Pope John Paul II was buried...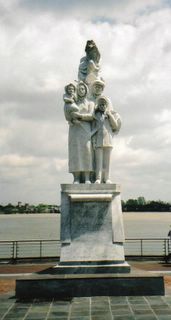 Riverwalk, immigrant statue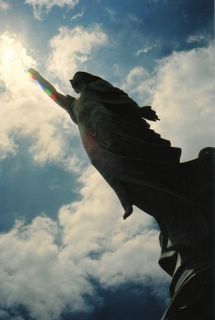 hope